Bored in the House and I'm in the House Bored
I SAID, bored in the house and I'm in the house bored.
Keeping your kiddo entertained and busy during this QuaranTIME might be a little bit difficult, especially if you [and your partner] are working from home. In addition to the new nine to five grind you have been tasked with mastering the perfect craft, maneuvering through oodles of technology, answering at least one million questions AND keeping everyone fed- that deserves an award in itself! Now do it through a global pandemic, and you've got yourself a warrior!
If you've run out of ideas to do with you and your youngsters, we wanted to share a few we have seen around the community!
First things first, washing hands!

Make it a game! When your kiddo wakes up first thing in the morning, give them a mark on their hand- by the end of the day, if the mark is gone, they win!

Pump some iron!

While the gyms may be closed, it's easy to get a little sweat-sesh in, right at home! Use body weight and get creative with your moves.


Add a POP of color into someone's day!

Have you ever painted rocks? A fun and easy art project that can be shared with your friends and neighbors. Once a masterpiece has been created, sprinkle your rocks through the neighborhood or along walking paths to bring some happiness and joy to someone.

Snack time, learning AND art?  Say no more!

Spring means rain and rainbows and flowers! After a quick discussion of the change in seasons and how mother nature brings beauty to our earth, have your kiddo draw a picture with all of the colors of the rainbow and THEN for some extra fun, add in some snacks to add a nice pop to their art!

Movin' and snoozin'

With all of this additional time at home, perhaps your kiddo has been able to get all nice and sweaty outside after running around in the sunshine! A nap is always a good call- it helps their bodies grow, and, let's be honest- you deserve it too!
Spending our days at home with everyone has quickly become the new "norm" and for some of us, that norm is far from the normal we have ever experienced. Being together is sure to spark new conversations and questions from your littles- and drafting up the perfect response may be a little bit difficult, especially because the last thing you want to do is scare them. Here are a few helpful tools to assist you with those tricky curiosities!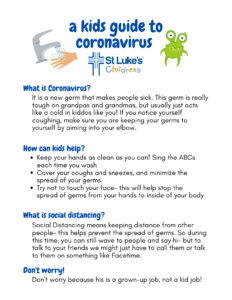 We hope you are all staying happy and healthy, and would love to see what you have been up to during this QuaranTIME! Tag us in your fun activities on Instagram @stlukeschildrens!